 SUBARU LOVES PETS
S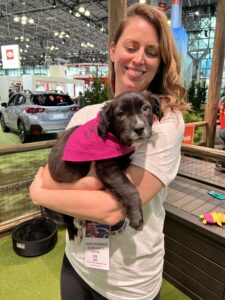 ubaru of America is proud to partner with local animal shelters and rescues to host Subaru loves pets—a pet adoption event during the New York International Auto Show.
Together, our goal is to find loving homes for the many animals in need in the community. As the largest corporate sponsor of the ASPCA®, Subaru has donated over $30 million to the organization and impacted the lives of more than 250,000 pets nationwide, including pets with special needs.
We encourage all New York Auto Show attendees to visit the Subaru exhibit on level 3 and consider adopting a pet or spreading the word about an adoptable pet!
Friday 4/7/2023
NYC Second Chance Rescue 11:00 AM 3:00 PM
Zani's Furry Friends 4:00 PM 8:00 PM
Saturday 4/8/2023
Muddy Paws 11:00 AM 3:00 PM
AMA Animal Rescue 4:00 PM 8:00 PM
Sunday 4/9/2023
Muddy Paws 10:00 AM 2:00 PM
AMA Animal Rescue 3:00 PM 7:00 PM
Monday 4/10/2023
NYC Second Chance Rescue 11:00 AM 3:00 PM
Zani's Furry Friends 4:00 PM 8:00 PM
Tuesday 4/11/2023
NYC Second Chance Rescue 11:00 AM 3:00 PM
Zani's Furry Friends 4:00 PM 8:00 PM
Wednesday 4/12/2023
Zani's Furry Friends 4:00 PM 8:00 PM
Thursday 4/13/2023
Badass Animal Rescue 11:00 AM 3:00 PM
Zani's Furry Friends 4:00 PM 8:00 PM
Friday 4/14/2023
Bideawee 11:00 AM 3:00 PM
Zani's Furry Friends 4:00 PM 8:00 PM
Saturday 4/15/2023
NYC Second Chance Rescue 11:00 AM 3:00 PM
AMA Animal Rescue 4:00 PM 8:00 PM
Sunday 4/16/2023
Bideawee 10:00 AM 2:00 PM
AMA Animal Rescue 3:00 PM 7:00 PM