 ALL-NEW 2023 DODGE HORNET BRINGS BUZZ TO COMPACT SUV SEGMENT
Dodge has unveiled the all-new 2023 Dodge Hornet, delivering one of the quickest and most powerful additions to the fast-growing compact SUV segment. Designed with a combination of muscular styling and best-in-class standard performance, the new Dodge comes in R/T and GT trims with a lineup of multi-energy powertrains.
The Dodge Hornet R/T PHEV, representing the brands first electrified performance vehicle, features a 1.3-liter turbocharged all-aluminum 285-plus horsepower engine and offers more than 30 miles of all-electric range. A Sport Mode for the Hornet R/T PHEV is performance focused and accessible by a dedicated button on the center console, unlocking a sharper throttle, optimized shift schedule, access to the hybrid system's optimized power and torque, and a tighter steering wheel feel.
The Hornet R/T PHEV also holds extra "sting" in reserve, ready to be unleashed through a class-exclusive PowerShot feature that provides a boost of 25 horsepower and delivers instant torque. Available only for the R/T, the PowerShot feature:
Shaves one second off normal 0 to 60 mph times by boosting horsepower and acceleration using bursts of extra power deployed by the battery and electric motor
Provides 15 seconds of extra horsepower, and can be repeated after a 15-second cool down period
Activates by pulling both steering-wheel mounted paddle shifters and performing a pedal kickdown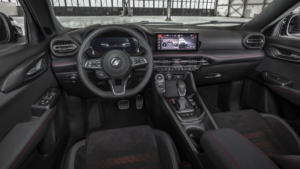 Inside, the performance interior follows the driver-focused design with center stack controls and display subtly "tipped" toward the driver, putting the individual in the cockpit at the center of the action. Red stitching accents, standard on Hornet, flow throughout the black interior, including on the mid-bolster, seats and armrest. Ignition control is positioned prominently on the console. Additional performance controls are placed at the fingertips with a button on the performance-oriented flat-bottom steering wheel that enables drivers to choose between Sport and Standard drive modes for the GT and hybrid driving modes for the R/T, keeping the driver connected to the car.
At the rear, the Hornet's Dodge identity shines through. The taillamp extends the width of the vehicle and features a lighted red signature, as well as an illuminated Dodge Rhombi logo in the center — featured for the first time on a Dodge vehicle — identifying from a distance that it's a Dodge. The illuminated taillamp and Rhombi logo, while standard on the Hornet, also serves as a subtle nod to the electrified performance of the Hornet R/T PHEV model.